Search For Products
Use one, two, or all three search criteria
Look Stunning at Every Event
Explore Some of Our Bargains
Top Questions From Our FAQ page
Quick Help
What's it about?
We Rent Fashion enables you to rent designer clothes for any period you want, from a minimum of 4 days. You can follow every step of your order's progress in real-time and view tracking numbers from your account dashboard. At the end of your rental period simply place the item(s) back inside the special We Rent Fashion reusable shipping bag for our courier to collect. No need to wash. All items are professionally cleaned upon return. You can also purchase pre-loved items subject to availability.
How do I start renting?
First you need to sign-up. Click the "Login" icon in the top right-hand corner of WeRentFashion.com homepage and select "Not Registered Yet?" Submit the form with the required details then head to your email account and click on the link in the verification email. Next complete your profile with location, description and your photo (only shop owners may upload a logo). This helps Sellers approve you to rent their items.
How do I order?
Browse or search to select an item. On the product page choose the Start Date (the day your rental will arrive), and the Return Date (the day your rental will be collected), then click "Rent Now". Ensure the Start Date is a few days before any specific event to which you wish to wear the item, to allow for unexpected delays. Once you're ready to checkout, select "Go To Cart". Choose a delivery method, then provide your address and payment details to complete the order. Visit your account dashboard and check your email for real-time status updates.
How long is the rental period?
Rental periods start from a minimum of 4 days and extend to as long as the limit set by the Seller. If you would like a longer or shorter period than this the Seller may be willing to discuss a special arrangement. You should receive the item by the rental Start Date and you must return it on the rental Return Date shown in your account dashboard. For example, a rental for 1st - 7th June will arrive by June 1st and must be returned on June 7th at the latest.
I've placed my order. Now what?
Go to your We Rent Fashion account dashboard to track the order progress in real-time. Your order will ship 1-3 days before your rental Start Date depending on the shipping method. Be sure to try on everything the moment your order arrives. On the off-chance you're not totally satisfied with your rental, please contact the Seller within the Replacement Period and we'll try to get something else to you in time for your event (additional fees may apply).
How much does shipping cost?
Shipping costs vary according to the policy of each Seller and courier selection.
How do I return my rental?
Place the item(s) back inside the reusable shipping bag they arrived in and attach the prepaid return slip (you will be charged a replacement fee if this bag is not returned). If there's nobody to meet the courier, or for any reason the item has not been collected by 4pm, take the package to the courier's nearest drop-off point (take a photo as proof). Complete the Return Form in your account with the tracking number before 11pm to avoid late penalty charges being automatically applied.
What's the problem if I return my rental a little late?
Many Sellers have back-to-back rentals, so when an item is returned late the following rental has to be cancelled at the last minute. This causes a lot of distress, with the next renter often becoming angry and upset, leaving them with a negative impression of WRF. It also results in a loss of income for the Seller and potentially negative reviews. It's therefore vital that you return your rental on time by the Return Date displayed in your account dashboard to prevent these issues and avoid late penalty charges. Please be kind to your fellow renter!
How do I know my rental has been successfully returned?
You will be notified in your We Rent Fashion account dashboard and by email when the Seller has received your return. It's vital you complete the Return Form with the return tracking number as soon as your return is collected /dropped-off so that the Seller knows it's inbound.
How can I ensure my rental will fit?
We strongly advise using a tape measure before your first rental and contacting the Seller if you have concerns regarding size. The product page contains a size chart with additional details if sizing differs from standard. The sizes shown are usually the actual measurements of the garment, not a fit size. Consequently your measurements should be slightly smaller than the garment size shown in order for it to fit. For example, if hip size is given as 36 inches, your measurement should be less than 36 for the item to fit. If something doesn't fit, please contact the Seller within 24 hours (the Replacement Period) to see if you can change it.
What if my rental doesn't fit?
If an item doesn't fit, please contact the Seller immediately and within 24 hours (always check your rental on the day it arrives). No changes can be made once the Replacement Period Expired notice is displayed in your account. The Seller may be able to provide a replacement, but this is not guaranteed and additional charges may apply. To be eligible for exchange or credit the item must be unworn and undamaged, with proof of return shipping including tracking information sent to the Seller within the 24 hour Replacement Period. Any refunds due to to fit will be credited to your WRF Wallet (minus delivery and security deposit). Please note that this Fit Policy is not applicable to accessories.
Should I wash the clothes?
Do not wash items. The Seller will carry out professional cleaning. All items should arrive to you as described by the Seller. If there are any marks on the garment it should be noted on the listing. If the item arrives with any marks or flaws not highlighted by the Seller, please send clear photos of the issue to the Seller on the day the item arrives before the Replacement Period expires.
What is Rental Security Deposit?
The Rental Security Deposit for each item varies and is determined by the Seller. This deposit is refunded in full to your WRF Wallet if the item is returned in good condition. The Security Deposit is necessary to help protect the seller in case the item is returned late or has to be repaired or replaced. The Rental Security Deposit generally increases in line with the value of the product. Although the Managed by WRF shop endeavours to keep this deposit very small, we encourage renters to understand that smaller Sellers may need to request a higher deposit.
Can I make minor or temporary alterations or pin brooches?
It is strictly forbidden to make any kind of alteration whatsoever to any rental item. Whether it's raising a hem or taking in a waist, no alterations are to be made, however slight or impermanent they may seem. This includes pinning, stitching, affixing accessories like brooches, dying, cutting, altering the size and similar acts. If you make any kind of alteration to an item you will be expected to purchase it and will be charged its "Buy Now" price, minus the rental fee already paid (excluding shipping). We Rent Fashion has no control over and cannot reverse any different terms agreed between the Renter and Seller.
How can I pay?
Payments can be made with a debit/credit card, or using your WRF Wallet balance, reward points, coupon code or any combination thereof. International payment services company, Stripe Inc., a certified Level 1 PCI Service Provider (the highest security level there is), securely processes all We Rent Fashion orders. Your billing information is kept safe at all times and never stored on WeRentFashion.com.
How do I know my payment details are safe?
All payments on We Rent Fashion are securely and confidentially processed by International financial services company, Stripe Inc., a certified Level 1 PCI Service Provider (the highest security level there is). Stripe is the second largest electronic payment processor in the world and processes hundreds of billions of transactions every year. Your card number is encrypted with the highest grade AES-256 encryption and never stored on WeRentFashion.com
What if a Seller/Buyer suggests to pay/trade with them directly?
For everyone's safety, all communications and payments between Renters/Buyers and Sellers must carried out within the We Rent Fashion platform. As stated in the We Rent Fashion Terms of Service, use of the website and/or mobile app indicates your agreement to this policy. Breaking this rule results in an automatic ban. If a request is made to make or receive a payment without going through the We Rent Fashion platform, we advise that you immediately report the incident to WRF support. Please note that we are unable to assist with any transactions that violate this rule as we will have no records of the interaction; consequently all items, payments and payment details involved will not be protected.
Tell Us What You Think!
What Our Renters Are Saying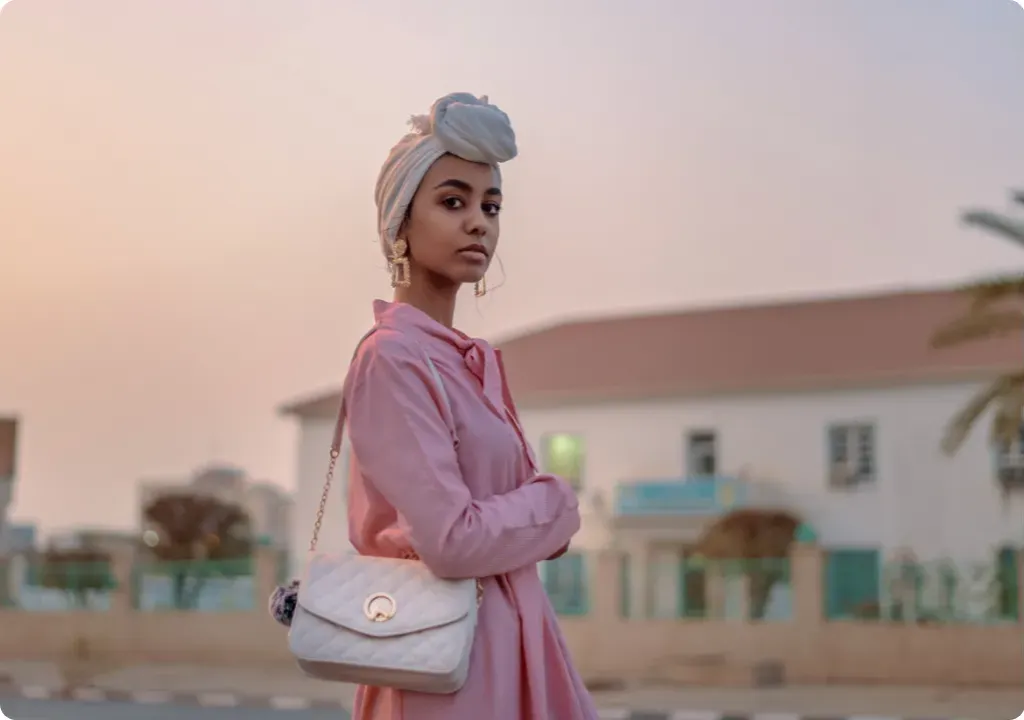 My dream is no longer a dream when I got to wear nurita on covEid. And it's brand new. The size fits me perfectly and I feel so pretty just like perempuan Melayu terakhir in NH. Omg kidding! Thank you for creating such a Great platform to save ...

Adzmin Shah
"Love this kinda innovative service and clever selection of easy fit kurungs. As soon as it reaches me, it is presentably well folded.
This should help everyone to have a chance to look good." ...

Marini
Quick delivery. Ever so marvelous packaging. First-rate service!!???? You will legit get too much attention if you wear this dress. It's like the perfect shape wear in a dress.Love!❤️ ...

Shira Azahar
I was wearing in size S. My height is 156cm and my weight is 48kg. Kain agak labuh untuk sesiapa yg 160cm ke bawah. I kena lipat banyak jugak. The material is so good. The service is really superbbbb. Their staff also very friendly. ...

Name Withheld
I am truly happy with the service and the best and easiest rent service i've ever deal. This is my second time rented dress with them and my experience is nothing but the best! Dont have to worry where we want to return the item, they will arra ...

Sabrina Allie
The seller is very attentive and friendly. Help to answer all my questions. It was a pleasant transaction from payment to returning back the items. Senang sangat. The rate is very reasonable too. ...
Shafiqa
Rented the dress to attend a wedding as I'm not the type that always wear baju kurung. I don't regret my decision! M-sized but fit nicely for me (155cm), the dress looks new and got a lot of attention (score!!). Pros: look good wearing de ...

Nadiah Ismail
So perfect. Perfect length. Perfect color. Perfect breathable material!! I highly recommend RWF !! very professional!

Shira
Second time renting and the service has always been wonderful! ?
Nur Amirah Hashim
The baju is so comfortable even lace outside. Very fit with me and i think WRF is a very professional platform in-term of their service, details of the product and ect. Aaa...good! ...

Name Withheld
Follow these simple steps
How it Works
Choose Location
Choose the area you want your items delivered to
Pick Dates
Select the start and end dates of your rental period
Select your Clothes
View and select items available on your chosen dates
Payment
Confirm your order with credit / debit card or bank transfer